Same problems
By: Pepe | February 12th, 2011

The draw last week with Chievo was not the required result and the performance was not up to scratch either. We are still encountering the same problems; the attack is playing nowhere near the level it should be and as a team we do not attack well enough as a group.
Lazio: Muslera; Lichtsteiner, Biava, Dias, Radu (Scaloni 18); Brocchi, Matuzalém, Bresciano; Hernanes (Sculli 69); Zárate (Mauri 78), Kozák
Chievo: Sorrentino; Sardo (Morero 72), Frey, Cesar, Mantovani; Fernandes, Guana (Pulzetti 62), Jokic; Bogliacino; Pellissier, Moscardelli (Thereau 46)
Why? What is going wrong with our offensive moves? In the last match we had Zárate supporting Kozák with Hernanes just behind, playing the trequartista role in a more traditional attacking trident. This line-out has potential but it requires certain things to work.
Width: As Radu went off early Scaloni had to step into his ample boots and did not quite fill them. Now our wide play is certainly not an aspect of the game we need worry about too much; Lichtsteiner always gives 100% and is always an option on the right for the safe pass or to ask him to hurtle up the pitch. He certainly doesn't have the quality of Maicon but he does share some characteristics and bombing forward is one. He is a permanent outlet, as is Radu when he plays but Scaloni is not a satisfactory replacement. When playing two up top, especially when one is Kozák you need width to stretch the opposition defence and we did not have enough against Chievo, but as I stated width isn't our biggest problem, but when our wide play doesn't work then we do tend to struggle.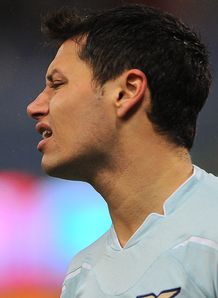 Link-up play: Zárate was always finding the ball in wide areas (which is what happens when our usual wing players aren't playing well) which completely takes Zárate out of the danger zones on the pitch. Kozák when isolated just does not have the experience to hold the ball up adequately or consistently take up the right positions; these things will come but we need it now. I am not going to pretend that it is just Zárate's positioning which is contributing to his poor level of play currently. We cannot know if there are any personal problems between Zárate and Reja but it is evident that Mauro is not doing what Reja has mentioned publicly several times, which is play the ball quicker and play less selfishly. We need Mauro to remember what playing for a team means because he has the quality to make our attack tick.
Midfield: There has not been enough support from the midfield. Brocchi does more than he is asked to and whilst we cannot fault him for it, it should not be left to him to spark moves from midfield. Matuzalém has the potential to be that player but whilst he didn't do anything wrong at the weekend he didn't take any risks either. With Ledesma so out of form and Mauri on the bench (more on that later) Matuzalém needs to realise that he is meant to be the team's metronome, prompting and carrying the ball and recently he hasn't done either; static is the only word I would use to describe his performance last week. Bresciano also disappointed, but whether that was due to his own hesitance or instruction from Reja, he just did not break forward and support the attack enough. He didn't make any mistakes but nor was he clinical at a couple of opportune moments either.
Mauri: We are missing Mauri badly. So why isn't he playing (9 minutes against Milan, 13 against Chievo)? The official line was that he is tired and needs a short rest; this was a perfectly understandable excuse even if it meant missing the unique qualities he brings us. His drive, incisive and persistent passing, carrying the ball up the pitch and finding goalscoring positions are all vital for Lazio to win games consistently. He even has moments of true fantasia and it has been a joy to see him play like this for about a year now (since Reja came in). So surely we should completely trust Reja's decision to rest him briefly, despite the concomitant downturn in performance.
If you saw Italy's midweek game with Germany then you saw what all supporters of gli Azzurri have been waiting to see for a long time, a fluid one with incisive direct passing, all aided by one man who gave a quality performance. Mauri was all over the pitch creating spaces for Cassano and Pazzini to play their game and using the ball efficiently when he got it; he was taken off in the 73rd min to be replaced by Giovinco.  The question is how can he not be fit enough to start three consecutive Lazio games but can play an international friendly? He will not be starting tomorrow as the club claims he is pain with an adductor problem and Mauri has backed this up but nevertheless this is a worrying situation and one I want to see resolved quickly.
Lazio had a few other players playing in the midweek internationals. You probably all saw Hernanes take a red card for a very silly and dangerous high foot to France's match-winner Karim Benzema which put paid to his attempt to impress seleção coach Mano Menezes; so let's hope he's recovered as he said he didn't sleep at all the night after the game. Libor Kozák helped the Czech Republic Under-21 team beat Holland 1-0 and Lichtsteiner played the full 90 for Switzerland against Malta in a disappointing 0-0 draw.
Onto this weekend and we will be heading to Lombardy and the Stadio Mario Rigamonti to take on Brescia Calcio. Brescia are coming off two decent results; a 1-1 draw at Rioma and a 2-0 home victory against Bari; but they are not sitting pretty in the league where they occupy 18th place a slot in the relegation zone. They have a couple of dangerous and technical midfielders, Cristiano Zanetti and Alessandro Diamanti and they have to be closed down and denied space if we don't want a difficult afternoon tomorrow as they both have the potential to open a defence or crack in a long shot given the chance.
Probable line-up: (4-2-3-1): Muslera; Lichtsteiner, Biava, Dias, Scaloni; Ledesma, Matuzalém; Gonzalez, Hernanes, Sculli; Kozák.
Bench: Berni, Garrido, Bresciano, Brocchi, Foggia, Zárate, Floccari
The defence is the tried and trusted one (unfortunately missing Radu due to bruising on the knee) which does not make many mistakes. The midfield however certainly is novel. With a holding pair of Ledesma and Matuzalém the pressure on them to cover and create will be large; the absence of Brocchi means the hard running will not be there but there is the potential to have a very technically adept partnership that will move the ball well. This means the midfield pressure on the opposition will be coming from Gonzalez and Sculli and while I trust their energy levels the inclusion of both of them at the expense of either Mauri or Zárate means we might not be tricky enough to get through their defence. Lastly Kozák all alone up front is a recipe for disaster if he's not given adequate support from the runners but Reja will be aware of this and will surely tell Hernanes to stay close to him. Floccari is fit enough for a role on the bench and it seems like Garrido will be as well (make of that what you will), throw Zárate, Bresciano, Brocchi and Foggia into the mix and we have a very high quality bench.
I said this last week and meant it and I say it now and mean it. This is a MUST WIN GAME. Nothing less than three points is acceptable. Rioma dropped points against two goal Cavani's Napoli so we can probably forget about catching the Parthenopeans but we must compete tooth and nail for third or fourth and Inter are really our most direct competition now and I can certainly see them putting the final nail Juve's Champions League ambitions for this season.
Finally, a piece of good news; Stefan Radu has extended his contract with us until June 2015 with a salary of €1.2m and bonuses. Also; I have been reading the posts, it's good to see debate and a little forum for people to share their opinions, I have also noticed people asking me to consider certain contributors for the blog, and as soon as I open the process anybody who wishes to submit will be considered.
Brescia Calcio vs. S.S. Lazio
Stadio Mario Rigamonti
Sunday 13 February
15:00 C.E.T.
Forza Lazio!
Some Related Lazio Posts:

Category:
Team News
Comments